Viet Nam win two chess World Cup tickets
Đăng bởi
viexpress.org
"/>">
Viet Nam have secured two more berths at the World Cups of chess at the Zone 3.3 Chess Championships 2017, which closed in the Philippines Sunday.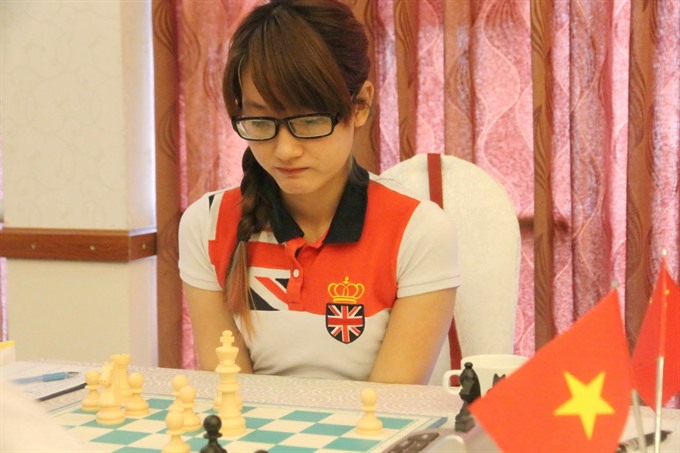 WIM Võ Th? Kim Ph?ng triumphs the Philippines' Zone 3.3 Chess Championships 2017.
Võ Th? Kim Ph?ng triumphed in the women's category with seven points after nine rounds and earned the only ticket available to the World Cup next year.
Ph?ng won the ticket after the eighth round on Saturday when she defeated Jan Jodilyn Fronda of the hosts, while leader Women's Grand Master (WGM) Hoàng Th? B?o Trâm, also of Vi?t Nam, suffered a draw with teammate and No 1 seed Ph?m Lê Th?o Nguyên.
In the last match Sunday, Women's International Master (WIM) Ph?ng, 23, drew with International Master (IM) Irine Kharisma Sukandar of Indonesia, who has twice won the Asian championship titles.
Trâm also had an unexpected draw against WIM Catherine Specopito of the Philippines. She failed to win back her top position and saw her World Cup ticket be awarded to Ph?ng.
Ph?ng also won the first of three WGM's titles at the tournament in Tagaytay City.
Vi?t Nam's women had a successful competition, with six of seven masters finishing in the top 10.
IM Nguyên, who won a ticket to the 2015 World Cup, finished fourth with 5.5 points. Vi?t Nam's best female player Nguyên made her name at the recent World Cup in Iran, as one of the best 16 masters.
WGM Nguy?n Th? Thanh An who was seeded No 7 came in at sixth position, winning 5.5 points.
Her teammates WGM Lê Thanh Tú and L??ng Ph??ng H?nh finished in seventh and eighth places, respectively.
Only WGM Nguy?n Th? Mai H?ng suffered a poor performance. The No 3 seed ranked 15th, with only 3.5 points.
The Women's World Cup is scheduled for 2018.
In the open category, GM Nguy?n Ng?c Tr??ng S?n grabbed a silver medal and was one of two male masters who qualified to compete in the World Cup later this year.
The No 1 seed was not among the top 10 after the first four games. But he earned four wins in a row and one draw in the next rounds, a very rapid run to finish in second place in the overall ranking, with seven points.
In the last game Sunday, S?n tied Indonesian GM Susanto Megaranto.
Malaysian Yeoh Li Tian topped the category with the same number of points, but he won due to better parameters.
The two masters drew even with each other in the round three match.
Two years ago at the qualification held in Vi?t Nam, S?n also won his ticket to the World Cup, which was held in 2015.
This year's World Cup for men will be organised in September in Georgia.
Apart from S?n, Vi?t Nam No 1 Lê Quang Liêm will also take part in the World Cup. S?n won his slot after he triumphed at the Asian championship last year. 
VNS